*Based on URA sales data in the last 12 months. Otherwise, based on latest transaction. May not be representative.
**Based on URA rental data in the last 12 months. Otherwise, based on latest transaction. May not be representative.
Facilities
0 Facilities Available
Skysuites@anson is a leasehold (99 yrs from 2008) apartment, condominium completed in 2014. It is developed by ARCADIA DEVELOPMENT PTE LTD and designed by P & T CONSULTANTS PTE LTD. The development occupies a land area of 2,788 sqm and a Gross Floor Area of 23,420 sqm. It consists of 360 units. According to records, buyers of this development are Singaporean 78.6%, PR 10.6%, Foreigner 9.4%, Company 1.4%.
SKYSUITES@ANSON is located along Enggor Street in Downtown Core, in District 2. It is accessible through the nearest MRTs including Tanjong Pagar EW15 and Maxwell TE18.
Based on transaction data in the last 12 months, sale prices range from S$ 1,972 psf to S$ 2,541 psf at an average of S$ 2,260 psf. Its highest recorded transaction was S$ 2,904 psf in May 2018 for a 1,012-sqft unit. Its lowest recorded transaction was S$ 1,715 psf in Apr 2019 for a 700-sqft unit. Its current rental yield is at 5.1%. Other nearby amenities include: 3 Grocerie(s): COLD STORAGE SINGAPORE (1983) PTE LTD, NTUC FAIRPRICE CO-OPERATIVE LTD, PAN PACIFIC INTERNATIONAL HOLDINGS PTE. LTD., and 3 Shopping Mall(s): ICON VILLAGE, AMARA SHOPPING CENTRE, 100 AM.
Buyers and tenants are attracted to District 2, which consists of Anson Road, Tanjong Pagar and Chinatown. Many buildings in District 2 have undergone upgrades, keeping pace with Singapore's property evolution. As such, spanning across this busy metropolitan area are high-rise office buildings, residential blocks and commercial structures. Anson Road is renowned for its residential and commercial towers. Chinatown, just a stone's throw away, is a distinctively historical and cultural enclave where major points have been declared national heritage sites. For foodies, one can find a wide variety of affordable and authentic local dishes at The Maxwell Food Centre that houses hawkers from the vicinity. District 2 is also home to Pinnacle @ Duxton, an iconic HDB project with seven 50-storey tower blocks linked with sky gardens at the 26th and 50th storeys that offer panoramic views of the city.
As a major financial and business hub, the Central Region stands as the dynamic city centre of Singapore. Spanning 13,150ha in land area, the region hosts Singapore's only UNESCO World Heritage Site and is home to many of the country's national monuments, such as the Merlion Park and Statue of Raffles. Although the region is designated mainly for commercial activities, it houses residential developments ranging from HDBs to bungalows. There is also plenty of greenery in the region, linked by 19km of park connectors. According to the Master Plan 2019, Orchard and Downtown will be rejuvenated as a lifestyle hub to include more mixed developments which offer live, work and play opportunities. New housing will be constructed in the Marina South Area with community facilities and amenities. Stage-6 of the Circle Line opening by 2025 will also enhance the Central Region's connectivity.
"Good rental yield"
v**********r@gmail.com
Owner     |   18 Mar 2019
"Great for coty living"
b********k@gmail.com
Owner     |   17 Jan 2018
"Great location and amenities are kept in excellent condition. Quality of the development is superb, layouts are one of the most efficient I've seen especially the 366 sqft 1 bedder units. Security is excellent and offers privacy and discretion in the heart of the Central Business District. Conveniently located in the financial district and with many nearby amenities such as 100AM shopping mall, tanjong pagar centre integrated decelopment"
s*****r@gmail.com
Tenant     |   17 Nov 2016
"The walls are thin and noise can travel in all directions, can even hear next door drag furniture. Renovation works from a few units seem to be endless, extend and extend Jacuzzis are not working mainly due to over usage. I have witnessed residents partying inside with drinks (omg they think this is a natural onsen is it). The exhaust noise at the corridors very evening is bad. Can hear with door closed. Management cannot do anything about it, which is ridiculous. There must be some switch or control somewhere to turn the exhaust fans off. This is not the only condo that is poorly built in S I believe."
F*** 3**
Google Review     |   03 Jul 2022
"Avoid renting or buying this place at Skysuites@Anson, there are much better options out there. The condo facilities are old and poorly maintained. The condo is surrounded by 2 ongoing constructions right in front, 6 days out of 7 days a week you will be hearing the drilling and pilling sounds, which can be really disruptive and too loud for you to take a zoom call meeting. Fuji Xerox Tower in front only just started the pilling construction. In the daytime, you will not be able to open the windows as the construction sound is non-stop and loud. The tennis court is always booked and very hard to get a slot. The brand of the kitchen appliances Blomberg that came with the units are no longer in Singapore, hence there is no service centre for repair, and if the appliance breaks down, the only way is to replace it totally. Some friend has the bedroom door fallen due to the poor workmanship by the developer for Skysuites@Anson. So be aware of the fixtures in the units as they are costly and hard to repair."
S****
Google Review     |   04 Jun 2022
"Most of the positive reviews you see here are from agents/landlords. Don't stay here! So many better options everywhere else. As others have mentioned this place is very noisey and there is nothing you can do about it. If you think you are safe from the noise because you stay in a high floor, you are mistaken. Most of the facilities are very poorly maintained (many BBQ pits don't work, and the jacuzzi are under maintenance half the time)."
A******** C******
Google Review     |   10 May 2022
"AVOID THIS PLACE LIKE THE PLAGUE Always noisy, goodbye sleep: You can hear noisy renovations on other units 12-15 floors above/below your unit. Also, there are two major constructions happening outside and since windows were poorly made there will always be a lot of noise. Pricey to maintain: The developer of the building is no longer in business so if there is any issue (doors, kitchen, window) you'll have to pay $2k-$3k for a specialist to fix. Some units also suffer from mold problems and the landlords dont want to pay. Old Facilities: The jacuzzi on the 72/56 are not properly maintained. You can see the wood creaking and the tiles falling out. Some friends have gotten serious cuts."
L**** K***
Google Review     |   10 May 2022
"Great place, location and amenities. Yes there is a bit of noise due to the ongoing constructions nearby, similar to many other developing areas around the country. Proximity to MRT, Bus, food options and basically every service required."
A******** D* L* P***
Google Review     |   24 Oct 2021
Transport
School
Eat & Shop
Others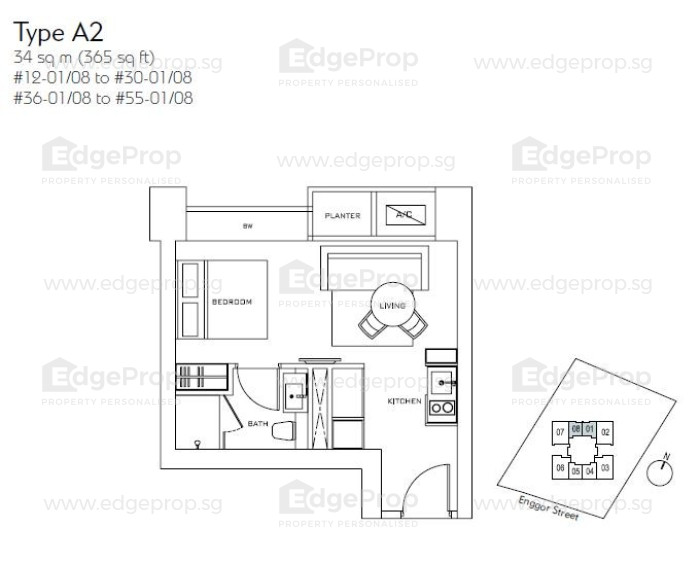 SKYSUITES@ANSON - 8 - 12 - 1
Note: Estimated when over 70% of the unit sizes are known, may differ from actual unit size distribution.
Sales Transaction of SKYSUITES@ANSON (Limited to 10)
ALL SALES TRANSACTION (0)
ALL ABORTED TRANSACTION (0)
0 asking price for sale 
selected
Developer's Selling Prices
Average Rental Yield Analysis
*Based on transactions and rents in the past 6 months.
Historical Quarterly Rental
Price Comparison with Nearby Properties (UP to 10)
(Within 1000 meters)
Note: *Based on URA Sales data in the last 12 months. **Based on URA Rental data in the last 12 months.
Status
Street Name
Location
Land Attributes
Estimated Breakeven
-
FAQs about SKYSUITES@ANSON